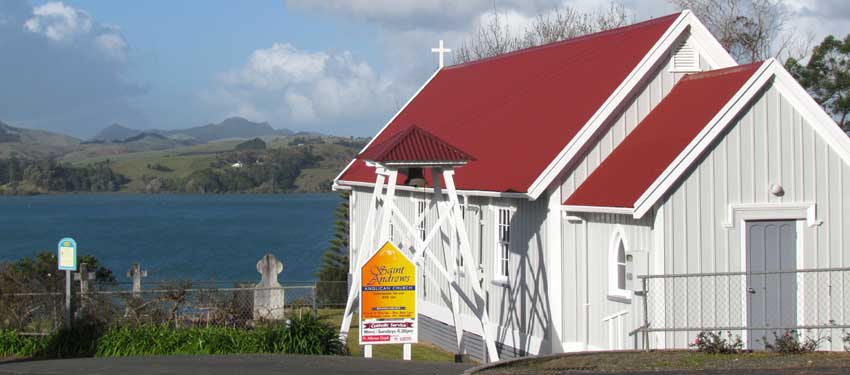 Welcome
Welcome to St Andrew's Anglican Church at Mangonui in Doubtless Bay in the Far North of New Zealand. St Andrew's is a Mission District of the Anglican Diocese of Auckland.
For more than 150 years, a church has stood on the hill above the town nestled below, serving the spiritual needs of the congregation whilst enjoying superb views of Mangonui Harbour.
Part of the love of those who attend St Andrew's is expressed in the care that is given to the building and to the surrounding churchyard. That love has extended to its preservation - in 1982 the church was registered with the New Zealand Historic Places Trust. It is also on the Mangonui Heritage Trail.
We have a Ladies Fellowship, a Bible Study Group and the St Andrews Singers. St Andrew's Church is also used by the Roman Catholic community and the local Alzheimers Club.
The church is available for Weddings, Funerals and Baptisms any day of the week. Please contact us to find out more.
Shane Jones MP welcomes the Bishop of Auckland and other guests to the 150th Anniversary of the church in October 2010.
Services
Regular Anglican Services
Holy Communion Services :
Each Sunday at 9.00 am.
Additional services at Easter and Christmas.
Regular Catholic Services
Sunday Mass : 3.30 pm.
Our vision
Our mission is to love and serve our community in the power and authority of Jesus Christ.
Our vision is:
To seek God's face through worship.
To seek the Kingdom of God through fellowship.
To seek God's righteousness through discipline.
To seek God's justice through service.
To seek the lost through outreach.
We welcome everyone to our services and hope that you will stay and share a cup of tea and fellowship.