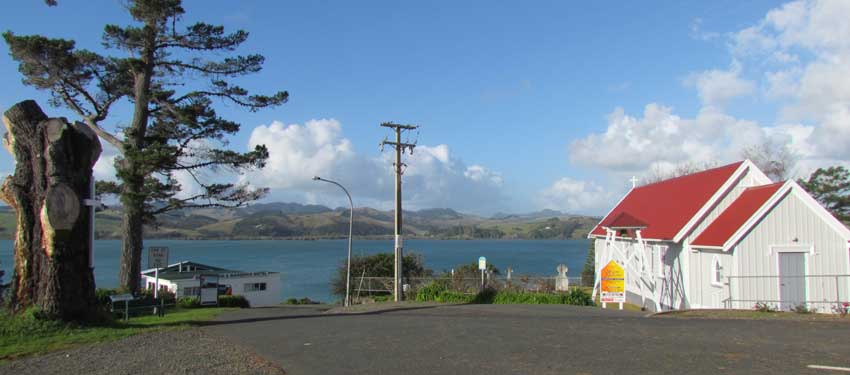 About St Andrew's Anglican Church Mangonui
St Andrew's Church celebrated its 150th Anniversary in October 2010 and is one of the oldest churches in New Zealand.
St Andrew's is a Mission District of the Anglican Diocese of Auckland. Christianity was planted in nearby Kaitaia when the Mission Station was begun by Joseph Matthews and William Puckey. Matthews preached the first sermon in 1832 surrounded by hundreds of threatening warriors, supported only by Nopera Panakareao, chief of Te Rarawa. The missionary's courage ensured not only his life but his mana and that of his religion.
The two missionaries married daughters of Rev Richard Davis and they all worked extremely hard to create the necessary buildings, roads and bridges; teaching at schools, coaching Maori lay readers and pastors and providing healthcare - preaching the Holy Word to both Maori and Pakeha.
After the building that became St Andrew's was erected in 1860, it was consecrated in November of that year. The church was later named St Andrew's by the Bishop of Auckland in 1874. Until 1870, the building was also used as a school.
Stained-glass windows depict scenes from St. Andrew's life, fishing, local milling and whaling. Many early settlers are buried in the churchyard. Unfortunately, the churchyard is now full for burials but there are still plots available in the ashes berms.
The belfry alongside the church is thought to have been built in 1862. In the 1970s, because of the growing congregation it was felt time to enlarge the church and the extended church was opened in 1976. A church lounge was added and dedicated in 1997.
How to find us
St Andrew's Anglican Church is located at the end of Colonel Mould Drive above the waterfront at Mangonui. There are superb view of the upper and lower harbour and out into Doubtless Bay and the Pacific Ocean. There are two footpaths from the Waterfront to the church - St Andrew's Walkway starting opposite the Police Station on Beach Road and the steep Thomas Street Walkway starting on Waterfront Drive adjacent to Wilton's Garage.
Click on the buttons of the interactive map to zoom in or zoom out or click on the marker to get driving instructions.
Mission Outreach
We are collecting used stamps - any stamps, any denomination, any country. All proceeds to the Leprosy Mission.